StreamOfKaijuness

wrote:

↑

Fri Jan 22, 2021 2:15 pm

It was confirmed at the 30:18 mark in the

Our Hero Ultraman!

Kaiju Con-Line panel:

Keith Aiken wrote:They're finishing the classic seven, which will be, you know, finishing up with Leo, so that will be Ultra Q through Ultraman Leo which will have the matched spines on the box sets and the steelbooks.

Return of Ultraman

is meant to be the centerpiece of the mural, with three series to its left and three to its right, as Ultraman Jack is the only character facing forward.
That's what I was looking for, thanks. (And likewise to others who answered.)
I asked because I know there was at least some minor debate among fans whether
Ultraman 80
would be grouped with the first seven series or not. I think there are decent arguments for and against including it as part of the spine mural, but I haven't kept up with the Mill Creek information, hence my curiosity.
It's also not quite the same scenario, but there's a ridiculous home video precedent should Mill Creek reverse course and force U80 into the mural (although it's clear now they won't). When Paramount re-released the Star Trek movies on VHS for the franchise's 25th anniversary in 1991, the sleeves were designed so the then-five films together formed a beautiful picture of the movie version of the Enterprise.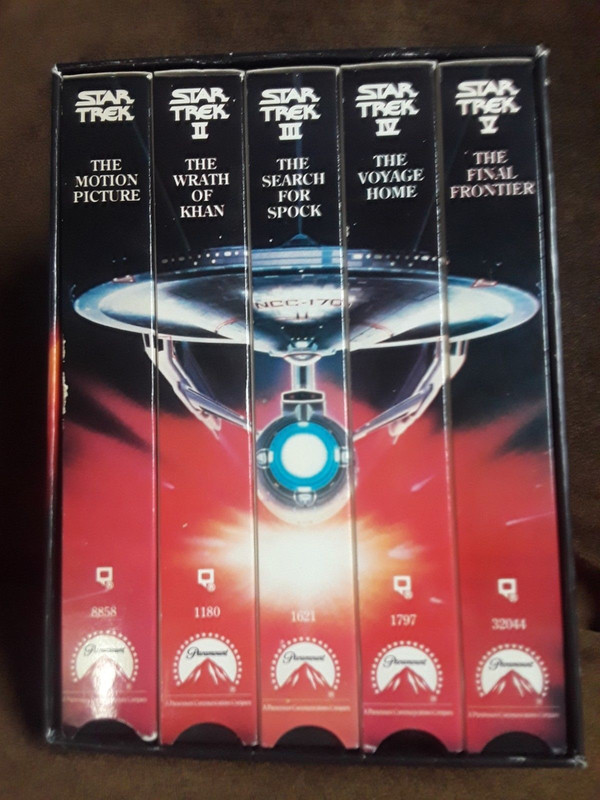 When the sixth and concluding film of the series (1992) was released on video, Paramount Home Video opted to give it a similar sleeve. The problem, of course, was that the mural was clearly already complete; the first five movies weren't reissued, however, meaning all six movies together formed an unbalanced image. I always hated how this looked. (Ignore the right-most film. I couldn't find a decent picture of just the first six movies.)