Quiz:
http://www.dragonflycave.com/newpay.aspx
Just thought it'd be a fun little thread. Anyways, what kind of Pokemon are you?
Rules:
Only Post your results once a day.
No flaming.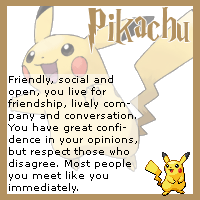 I like my result :3 It matches my personality to be honest, it's changed since last time though, I got a Mew before.