(I created this thread about a year and a half ago for Club Tokyo and the Kaiju Collectors forum. With all the talk and new threads about collecting lately over here, I figured I'd repost it here.)
PART 1: JET JAGUAR
By the middle of the first decade of the 21st century the Japanese giant monster collecting landscape had changed radically. With no new Godzilla movies being made output from Bandai - once the undisputed king of the hill - ground to a near complete halt, allowing smaller companies to pick up the slack with stylized versions of Toho kaiju aimed at collectors who enjoyed the old Marusan and Bullmark figures in their youth. Marmit, Marusan and M-1 were already producing their own figures late in the 1990's, but by 2005 many other companies had come on the scene, including Y-MSF, CCP, Pilot Ace and the subject of this thread, Gigabrain.
Apparently (and someone correct me if I'm wrong), Gigabrain is a small subsidiary of Marmit. That would go a long way towards explaining why just about all of the Toho characters Gigabrain has done are either figures that never appeared in Marmit's Monster Heaven line, or were figures that
did
appear in that line but could have been improved.
Gigabrain's first figure was Jet Jaguar, released in 2006. The sculpt is simplistic - it's not as accurate as the Bandai figure, but then again toys like this never set out to be that accurate anyway. The major selling point of this figure was it's 16 points of articulation, a gigantic rarity with giant monster figures. Each arm alone includes 4 joints, with more points of movement at the neck, waist, hips, knees and ankles. Unfortunately without anything in the way of ball or pin joints the articulation is limited either way, but the fact that Gigabrain attempted to do something like this in the first place makes this figure unique and to many people made Gigabrain the company to watch in 2006.
Like all companies putting out figures like this, Gigabrain has put out countless color variants of this toy, with most being sold as show or event exclusives. There are at least twelve known varieties including two glow in the dark versions and (as I'm told recently) a version painted in colors that mimic the Green Goblin. Shown in the photos below are the figures the reside in my own collection.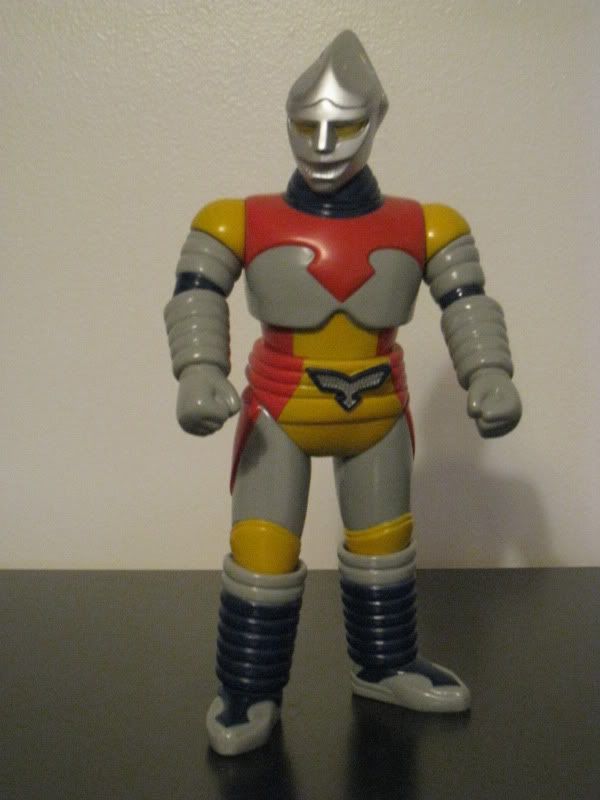 Above is the closest Gigabrain got to a completely movie-accurate Jet Jaguar in terms of paint. They released another version with black eyes and a head the same color as the rest of the body, while this one goes with gold eyes and a silver head. My only real qualm with this figure is that the blue on the lower legs doesn't come to a point at the knee. Otherwise this is an awesome figure and I easily prefer it to Jet Jaguars made by Marmit, as well as Bandai's earlier 8" figure.
The Jet Jaguar on the left in the above photo is probably my favorite out of the ones I own. It's cast from a completely clear vinyl - a nice break from more milky, opaque translucent vinyl many figures use - and painted with metallic colors. There's something about it that make me crave gummy candy. The figure on the right is painted completely gold with red eyes and almost has the appearance of a statue. Another cool toy.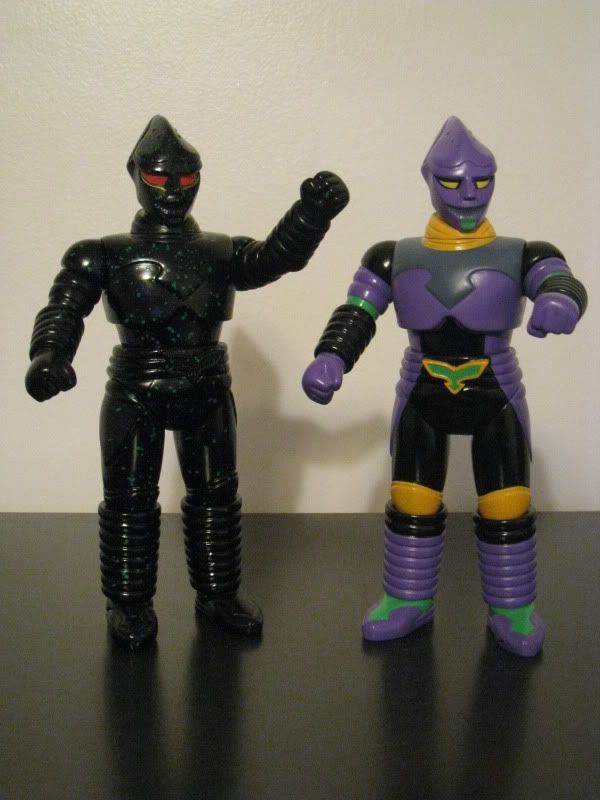 I would really like to know the significance of the figure on the left here or what it's trying to represent, because it's another one that's really cool. The splashes of green are really appealing and I like the gold trim around the eyes. The Evangelion style Jet Jaguar on the right is another great figure, even though I'll be the first to admit that I'm not a fan of that anime, or any anime at all. The colors in general just work really well and it's rare to see purple kaiju figures, so that makes this one stand out. This was actually my very first Gigabrain: the one that got me started.
Finally, these last two don't need much of an explanation if you've already read my Bandai Jet Jaguar spotlight (EDIT: over at CT). It's the firefighter and medic Jet Jaguar variants from the "Godzilla Island" TV show. While I didn't mind it when Bandai did this, it just seems like overkill with these two.
Either way, Gigabrain was off and running and even better things were just ahead.

Check back soon for part 2!!!!