Stop motion, as a visual effect in an otherwise normal live-action film, has never
once
looked convincing to me. Ever.
Do I enjoy it? Absolutely. It's a fun and creative effect. But that doesn't instantly translate to me thinking it's a convincing effect.
Kong '33 is my favorite incarnation of the big ape, but as far as the most convincing Kong on screen, the 1976 version absolutely trumps it. Does that mean all suitmation effects are better than stop motion? Not necessarily, but 9 times out of 10, the suitmation does a much better job at portraying a fictional creature in the world of the film.
This:
...does not convince me that the hydra is actually engaging with the environment around it. It's movements are way too jerky which immediately ruin any and all immersion. It's compositing is too contrasting with the live footage of the actor.
This: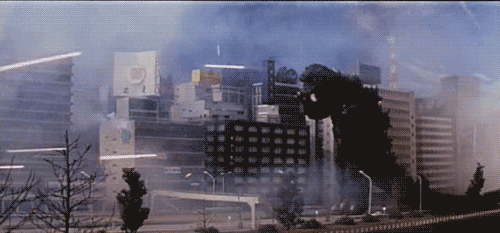 ...
does
do a brilliant job of convincing me that Godzilla's actually interacting with his environment. Why? Because the suit's actually in the environment! And there's an actual person performing the motions (though an argument can definitely be made that stop-motion animators are themselves a kind of actor but I digress).
Is stop motion fun? Absolutely. Is it creative and a prime example of fantastic animating ability and craftsmanship? You bet. Is it a more convincing/better effect? No. And it never will be.
Unless...
...the entire world is created through the technique. Films like those from Laika and Aardman excel at stop motion because they are not restricted by essentially being a composite effect with nothing to interact with. With the models being the "actors" and not just the "effect", it allows for the audience to be fully immersed because nothing in the film's environment is contrasting.
Does that make sense? I'll try to summarize it:
Stop motion, while a creative and commendable technique, ultimately fails at portraying a realistic creature juxtaposed with a real environment because the stop motion model is not actually interacting with anything and is often noticeably composited into the shot. Suitmation excels at portraying a realistic creature juxtaposed with a real environment because the suit actually exists in the environment and can interact with it. Stop motion excels best when it is the sole technique a film is composed of because there is no distraction from a contrasting environment.