Bumping this instead of creating a new topic.
How easy is it to modify certain aspects of the board styles? I've tried to switch over to a more night-mode friendly style but I cannot stand the placement of the "Mark Forums Read" button: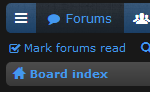 This position is extremely susceptible to misclicks, effectively rendering a once lively forum full of unread topics to a wasteland (too dramatic?).
I don't know why this isn't moved over to the right side of this line, there's a huge blank space there that could suffice: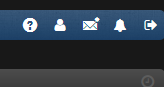 Of course, that would also mean that anyone trying to click on the right-side icons could also misclick it there as well. So why not put it in the drop down menu?
Just a few thoughts I had. I like the night mode-style themes but functionally, they're a pain in some ways.