Broken Plate Nuclear Pulse:
MUTO Prime had a history of killing members of the Godzilla species such as Adam, more commonly known as Dagon. She very nearly killed the Godzilla we know today few months after the San Fransisco incident, by using a Sonic Scream to shatter Godzilla's dorsal plates, damaging the organs that store and route radiation. It was a good idea, making Godzilla's nuclear supply leak so he'd have less and less shots of his Atomic Breath with every passing second, but she ended up overplaying her hand. In a genius move no one could have seen coming, Godzilla picking up MUTO Prime on his back and discharge huge amounts of nuclear energy not out of his mouth but out of the back injuries they were leaking from. So much energy was used at once it temporary made Godzilla's veins glow red.
This blast was strong enough not only send MUTO Prime soaring but also rip off some of her limbs. Upon landing she was too injured to do much as Godzilla crushed her head under foot. Ironically in trying to limit Godzilla's "ammo" supply for his main weapon she had accidentally created a new weapon for him, his injured plates or rather their leaking radiation organ pockets. These injuries continued to pour out radiation clouds bright enough to be seen by the naked eye, anyone caught downwind in the immediate area is at serious risk.
The spines grew back but in a maple leaf shape we saw in 2019. It should be noted that injuries happened to the spines again though to a lesser extent when King Ghidorah dropped Godzilla. For a brief moment when Godzilla slams into the Earth a flash of a blue cloud is dispersed, one of the plates cracked though not enough to cause a continues cloud visible to the naked eye.
It is currently unknown if Godzilla has always had this ability or if it's circumstantial.
EX Atomic Breath:
Normally when fired, Godzilla's Atomic Ray is fiery looking with flames. But when he puts extra energy into his breath the flame flickering is lessened and the beam is more concentrated like a laser or beam.
Super Charge:
When super charged with both man-made and natural radiation at once, Godzilla gains a large boost in strength, energy and maybe even increased in size. Even his normal, fiery Atomic Breath gains a boost in power, being able to knock King Ghidorah off his feet, sending him flying back in the ar when in the past it only pushed the smaller and lighter Female MUTO of the 2014 San Fransisco incident. There is some trade off for this though. This high levels of energy is marked by a constant pulsing of Godzilla's glowing plates, which gives him the distinct advantage of masking his Atomic Ray's charging but limits his ability to communicate to humans, who he "talks" to through the bioluminescence of his plates.
The other disadvantage is he must vent out this energy as much as he can as quickly as he can or else he will meltdown, dying, taking the surrounding area with him. Had King Ghidorah not found the city grid to boost it's own power, Godzilla might have very well been allowed to vent it out with many Atomic Breaths on King Ghidorah and later Rodan.
Burning Godzilla:
In a strange display of symbiotic relationship, upon her death Mothra releases a magical powder containing her life force, this magic allows the Goddess of Peace to power up Godzilla further and turn him into Burning Godzilla. It's a fitting gift that the deity who is all about death and rebirth gives Godzilla a means of reviving like a phoenix from the ashes much like herself. In this form Godzilla's body temperature skyrockets as it lights on fire and even melts buildings and cars that are just near him. This is by design as it helps Godzilla vent out excess amounts of radiation should he have absorbed too much, thus preventing a meltdown and his death. It is ironic that while Burning Mode meant too much energy to vent and prevent meltdown for Heisei Godzilla, it was actually a means of venting and preventing said Meltdown for Monsterverse Godzilla.
It is currently unknown if this version of Burning Godzilla has a Red Spiral Ray and, if it does, if Godzilla gets to keep it when it wears off.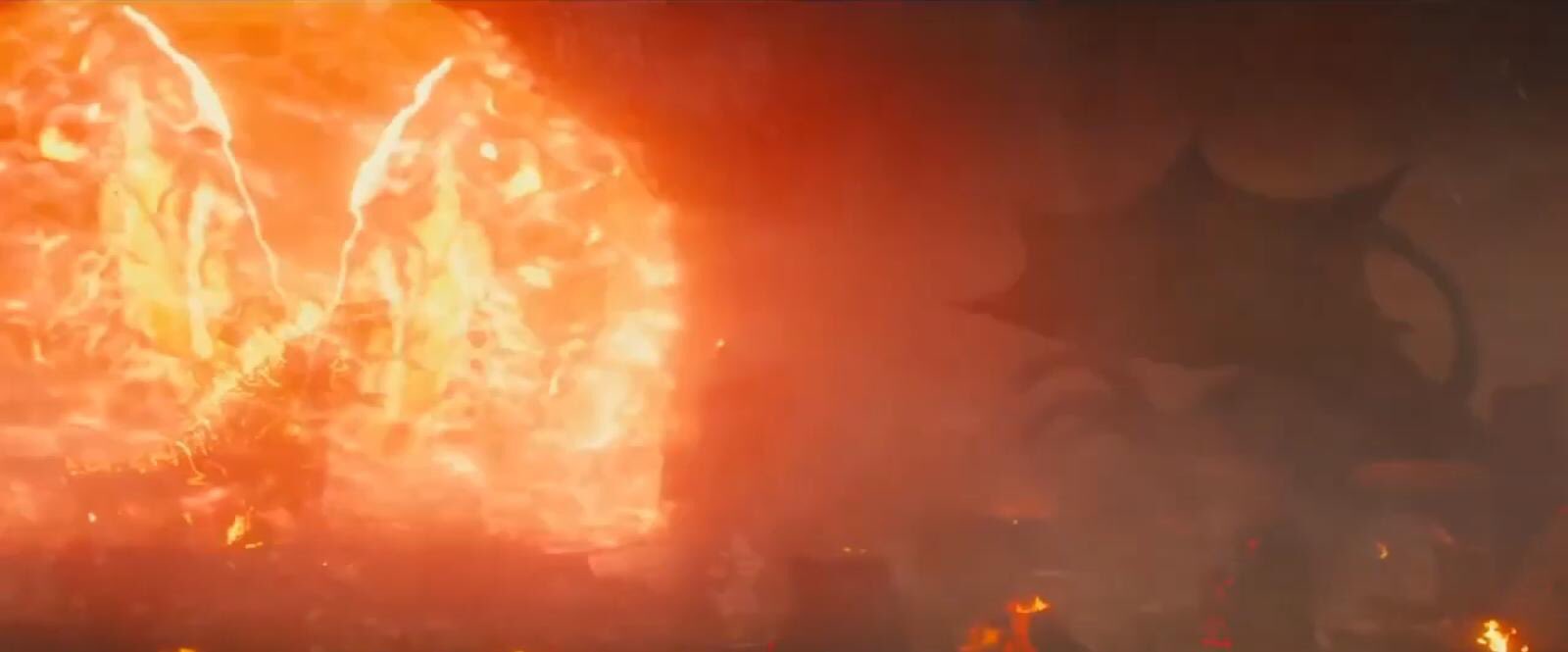 Mothra Nuclear Pulse:
The final gift from the Nature Goddess, blue electricity dances on the King of the Monsters red hot glowing spines as he avenges his co-ruler by unleashing a burning hot Nuclear Pulse that takes the form of the Queen of the Monsters wings and sounds like Mothra's screech. This area of effect attack expands, burning everything within miles. Even King Ghidorah's super healing had struggled against it, being overwhelmed as each pulse came faster and damaged King Ghidorah faster than he could heal damage from previous blasts. Godzilla also seemed able to adjust it's power making each blast larger than the previous, with the final one nuking the area and venting out enough nuclear energy to prevent Godzilla from dying of a meltdown. This power proved to the world that the more humans learn about natures order, the more they realize there's a lot they still don't understand. So much so that some of it can be seen as supernatural or paranormal.
It is unknown at this time if Godzilla gets to keep this version of the Nuclear Pulse or if it is temporally and situational. Unlike past Nuclear Pulses, Godzilla is able to direct it all to go in one direction as opposed to everywhere, as evidenced by the "wing" moving away from King Ghidorah suddenly surging towards him as it expanded.