So after some extensive thinking about where the MonsterVerse could go after Ghidorah, I came to the conclusion that Mechagodzilla is the only way to end the series
So here me out…
Godzilla (2014) was all about mankind's conflict with nature when three ancient monsters fight for supremacy, and man learns of the looming threat of the Titans.
In Godzilla: King Of The Monsters, mankind is plagued with otherworldly threats in Ghidorah, an unnatural creature who upsets the balance of the natural world.
Not to mention…
*Spoilers concerning the end of GKOTM*
Where does the series go after this? Humanity's already envoked the wrath of natural and unnatural beings, those are usually the staples in the Godzilla series plots, but it's missing the third classic trope, humanity upsetting the natural balance with technological advances.
In a time where monsters walk the Earth, humanity "needs" a Titan killer, a weapon to help them feel "safe" in a time like this, and if we get a Mechagodzilla, there's no doubt it'd fall into the wrong hands, thus creating a big problem for humanity. The dangers of A.I. is a serious thing right now, seems like a plausible route to go.
Now I know some knucklehead will argue the realistics of a giant robot, but we've already gotten aliens and supernatural moth monsters, and the folks doing these films have said time and time again that their definition of "realism" for this series is how we'd realistically react if an alien dropped down, or a big ass robot showed up, all the fantastic elements can
still
happen, we'll just see how the military, people, and media would handle these situations.
Conspiracy time!
Keep in mind, WB already owns his rights (Remember Ready Player One anybody?)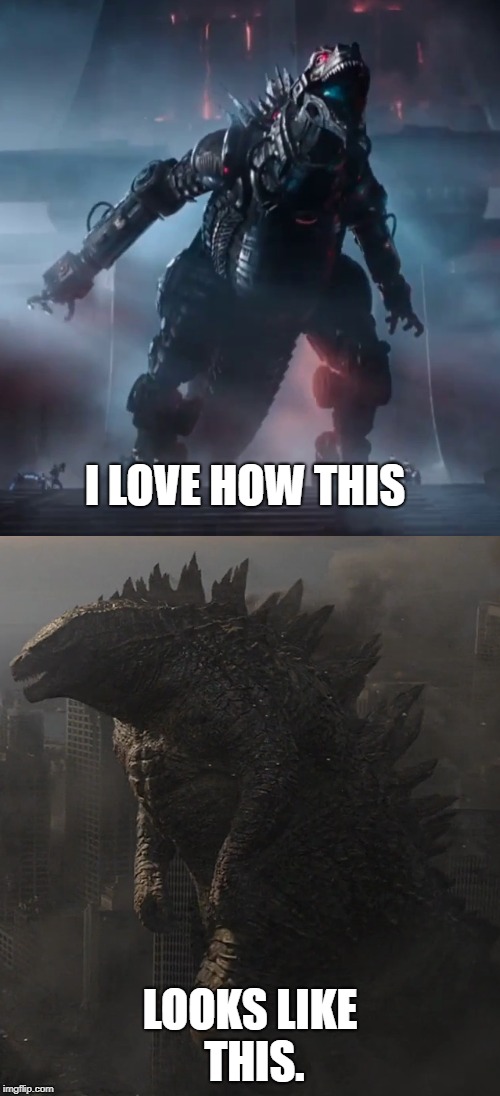 I found it suspicious that the Mechagodzilla design was based on Godzilla 2014 in the first place, and even sported his signature blue napalm breath, could that have been a small tease of what's to come?
What do you think? Would you be down for Mechagodzilla?