The Yakuza

Ever since the multiverse theory was discovered and proven to exist, one race has been there since the very beginning: The Yakuza. This race of proud deities were one of the original founding members of the multiverse's creation. Their incredible power and wisdom greatly helped to shape the multiverse into what it is today. Before long, the Yakuza made a name for themselves that spanned countless realms and star systems, becoming one of the most revered and respected races that had ever been created. However, what use would having all of this power and gravitas be without an empire to reinforce it with? Soon enough, about four million years after the multiverse's creation, the Yakuza had both created and sustained their very own realm within the cosmos. At first, said realm wasn't all that large nor impressive for the first three thousand years or so. But, over time, and as the Yakuza reproduced and spread their influence across the galaxy, the realm grew into a powerful and unshakable empire. The vice-like grasp that the Yakuza now wielded had soon begun to create angst from the other deities and gods; even the Olympians themselves were beginning to fear the sort of power that the Yakuza held. How could a newly formed species gain so much in so little time? Such a prospect had never occurred before, and to this day, has never happened to that extent again.
The Yakuza went on to prosper and flourish beyond their wildest dreams; it was as though they ruled a third of the cosmos by themselves. The best part of it all was: they were peaceful and serene. For millions of years, there were no wars, no political squabbles, no power trips... Nothing of the sort. The Yakuza remained in their pocket of the multiverse for the most part, trying their best to not intrude on other races. It was a time of renaissance and plentifulness. Soon, the Yakuza clan went on to name their realm after the elite, godly warriors that would eventually be created to defend not only their home, but the entire multiverse as well. Their realm would be forever be named: The Realm of the Ninja.
Realm of the Ninja
"As close to heaven without actually being there, as it can possibly get".
This is the phrase that every single being of different shape and size seem to always use to describe their visit to the Realm of the Ninja. Unsurprisingly enough, they are never far off. Even the angels that live within the gates of heaven have stated such, and for good reason. The Realm of the Ninja is without a doubt, one of the most beautiful places that exists in the known multiverse. The skies are completely clear 90% of the year, the air crisp and pollution free, and this sense of overwhelming majesty and awe seems to just fill the atmosphere. Exotic foliage that is exclusive solely to this realm only, covers the seemingly infinite sea of land and fields, while the angelic golden star of Orion casts its glow elegantly upon the the realm. Mountain chains of all shapes and sizes stand tall in the distance, wrapping around the proud kingdom that sits in the very middle, like protective arms to shield it from any and all danger. Invisible to all, but equally felt in its presence, is the magical barrier that protects the Realm of the Ninja from potential invasion, and locking it away from any entry besides that of portals from its citizens. The kingdom itself is absolutely massive and quite expansive, having taken close to five thousand years to full complete. It is comprised out of nothing but the most powerful, durable, and mystical materials and properties currently known. So reinforced in fact, that not even that of a planetoid object the size of Orion could budge the kingdom from its position. In it, houses citizens of the Yakuza, 500,000 and growing every single day. While such a number may not seem like much compared to other civilizations, it is plenty for this specific realm, and allows for everyone to know and become close with one another. Highly advanced technologies are perfectly married with old traditions, which keeps the Yakuza on the cutting edge of the newest advancements and discoveries in technology. Within some of the mountains, sit dozens of beautiful smaller villages and towns where everyone else stays.
The mother of the Yakzua clan, as well as the mother of all dragons, Tiamat, envisioned the Realm of the Ninja in to be a true paradise. She wanted it to be everlasting and gorgeous and flourishing with life, even in its darkest of days. After a thousand years of back and forth pleading with the father of the Yakuza, and her husband, Marise, Tiamat was granted her wish, and her perfect world was born soon after. Everything in the realm, every rock, every blade of grass, every leaf, every stone... All of it was perfect. However, like everything else in life, all good things must eventually come to an end, and the downward spiral of the Yakuza was soon at hand. While the Realm of the Ninja remains as beautiful and heavenly as it has always been, the horrific history that the Yakuza had suffered through still lingers. This was all because of the actions of one, single being. And the consequence for these horrible actions? The age of civil war had begun.
The Fall

They say that power corrupts both the mind and the soul. For eons, Marise didn't believe such to be true, until he got a taste of what true power was really like. With the Yakuza clan now have been established as one of the most powerful races in the multiverse, and the Realm of the Ninja completely settled in, Marise and Tiamat had an empire of unheard proportions. For Tiamat, having such was more than enough, and was a blessing that she didn't dare take advantage of. However, Marise wasn't satisfied. For him, it wasn't enough to have just one, single empire. No, he wanted more, much more. Soon, Tiamat began to notice a shift in her husband's behavior, and it deeply concerned her. Gone were the days of Marise being well mannered and compassionate to both their people, and those of different races. In its place, was a growing and merciless tyrant, blinded by the prospect of total domination. Marise's reign of terror spread throughout the Realm of the Ninja, shattering the sense of freedom and replacing it with dictatorship. Tiamat was both horrified at her husband's cruel change of heart, and livid by Marise going against all that they had worked so hard for. She was all but powerless to do anything, though, for Marise threatened her with an ultimatum that she couldn't bring herself to go against. He warned her to either obey and bow to his rule, or be exiled from their realm, and in turn, the people whom she loved so dear, permanently. Tiamat couldn't bear the thought of leaving her land and her people behind, and as such, she was forced to yield to the monster that Marise had become.
With his grasp firmly locked on their own world, Marise had soon set his sights on other nearby realms. With ease, Marise had brought said civilizations to their knees, slaughtering their leaders and any who dared opposed him. By the time 500 years or so had passed, Marise's influence had spread across a third of the entire multiverse, with hundreds of thousands of realms under his control. By the time he had reached Olympus, Marise possessed so much power, that he single handily wiped out nearly all of the Greek gods, and forced any that remained to retreat from their own home. Tiamat had had more than enough of her husband's destructive actions, and needed to act fast before the entire multiverse was under his control. As such, without Marise knowing, Tiamat combined her own power with the incredible forces from the entire multiverse, to give birth to four, extremely special, and vaunted children. These were her guardians... Her protectors that would grow to become the heroes of the entire multiverse.
These were the ninjas.
The Ninjas
"They are the perfect warriors".
The ninjas are four demigod siblings whose powers and abilities surpass anything that the multiverse has ever dreamed of; real life supermen and women. They were Tiamat's perfect creations, and the ones destined to protect the multiverse from whatever evil that so threatened it. Four of them were born, three brothers, and one sister, all magnificent and beautiful. And, their names: All taken from beings of great legends that wielded incredible power, will and heroism:
Dante, Evron, Ubel, and Daeva
. Tiamat was so proud of what she had created, that she immediately imprinted on the ninjas as her perfect children. The first two were the quickest to have been born, due to Tiamat's power being at its peak at the time; only a year was between them, as a result. Because Tiamat poured so much of her energy into her first two children, especially her firstborn, the last two took quite a deal longer to form. Because of this, there is a 3 million age difference between Tiamat's first and middle child, and a considerable 8 million difference between her oldest and youngest child. To her surprise though, such didn't seem to matter at all to the ninjas; they immediately formed an unbreakable sibling bond with one another that is even more powerful to this very day.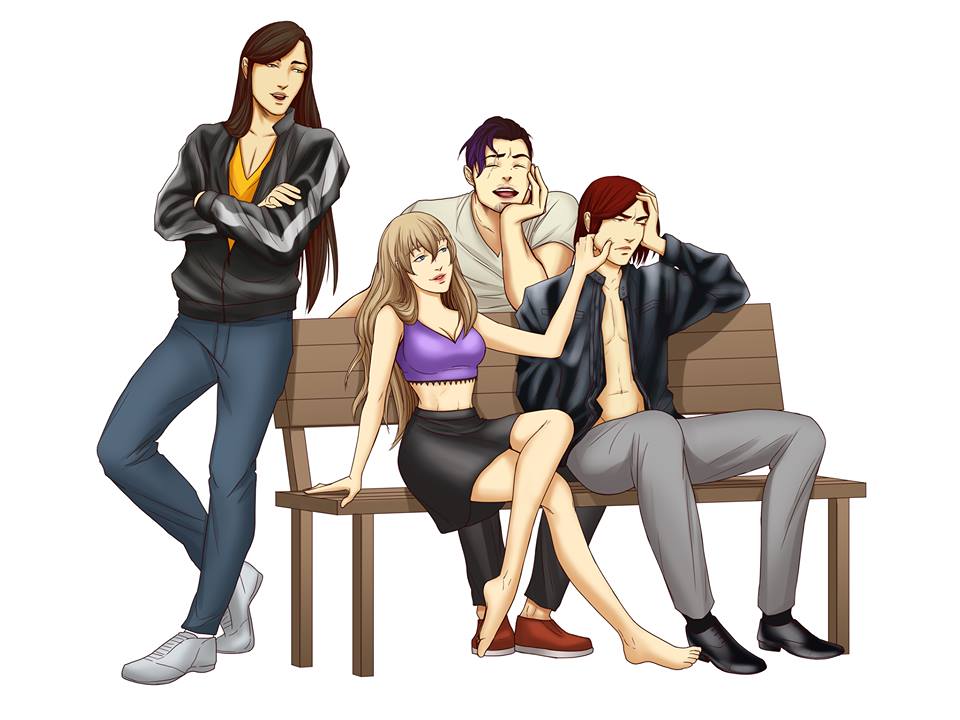 It was quite difficult for the first few million years, as Tiamat was forced to hide her newly made children from Marise until all of them were born. On multiple instances, she had to leave the ninjas behind in order to stand by Marise so he wouldn't grow suspicious from her many prolonged absences. This is something that Tiamat still regrets having to have done even today. Unfortunately, Marise's suspicions eventually came to a head, and he discovered the ninjas hiding deep within the mountains of their very own realm. Tiamat was so scared that the tyrannical being would kill them out of spite for her secrecy. However, Marise spared them all. In fact, he instantly accepted the young ninjas as his own children, for in his mind, he could train them to become his greatest assets. Marise sensed overwhelming power surging through the firstborn, and as such, dedicated most of his time to raising him to become a ruthless warrior. Tiamat was again, livid at the prospect of Marise turning her children into monsters, but also again, she was powerless to do anything. Eventually, because of her insubordination for the sake of protecting her children, Tiamat was forcibly cast out of the very home she helped create, and left her beautiful creations alone with what had become the father of chaos.
For millions of years, the ninjas suffered at the hands of their father, with Dante getting the very worst of it. Marise would beat the young boy for hours each and every day, until his flesh was literally peeled off, and his bones broken every which way. Then, once he recovered, Marise would have him train endlessly until the sun set and rose again on a new day. He put Dante through many other grueling tasks of both physical and psychological torture. Dante's siblings always had an idea of what he was going through, but they never knew just how bad it got, and were helpless to do anything to help him. They could only watch on and tend to Dante's wounds when Marise was through with him for the day. Dante, even to this day, has never told them the whole truth of what their father use to do to him.
At last, however, the multiverse granted the ninjas relief from Marise's wrath. Dante watched as Marise slowly descended into madness, and the one who gave he and his siblings life, and nurtured them with all her strength, be exiled from their home permanently. With Tiamat out of the picture, Marise was finally free to reign over the Realm of the Ninja as he pleased. However, that rule only lasted for a few million years before the last of the original deities finally had had enough of Marise's antics. As such, on Dante's 18 millionth birthday, Marise was sealed away in a magical coffin forever, and cast out into the dark embrace of the largest black hole that the deities could find. His influence on the multiverse was no more. Dante, his siblings and his people were now free. Now 18 million years old, Dante was ceremoniously made king of the Yakuza, and the leader of his ninja siblings.
At first, the weight of such a newfound responsibility was just too much for the young ninja to bear, and after the ceremony was over, Dante took off into space under the cover of night. He stayed gone for 7 months, with no one having any idea of where he ran off to. His siblings were even starting to question whether Dante would ever return, but their wise Aunt, Beatrice, gave them reassurance. Dante just needed time to find himself first before accepting such a monumental responsibility. And sure enough, 7 months later, Dante returned home, and he wasn't alone. With him was both his future girlfriend, Aphrodite, and a newfound maturity and acceptance of the responsibilities he now bore. Determined not to follow in his tyrannical father's footsteps, Dante swore to one day bring absolute peace to the multiverse and salvage his people's reputation no matter the cost.
5 million years ago, after greatly assisting the forces of Heaven to stop the fury of Hell from spreading across the multiverse, in a war that lasted 3 grueling days, the ninjas were granted the vaunted title of the:
Guardians of the Multiverse
. Now, the ninjas have long since repaired the image of themselves and more importantly, their people, having gained the respect of countless across the entire multiverse. Even with their Mom gone, these four young and brave souls know that she would be proud of what they've become. With a powerful new evil on the rise, one that threatens all that exists, the ninjas are going to need anyone and everyone they can get to wage war against the most powerful force in the multiverse. The time has come.
*******************************************************************************************************************************************************************************
Realm of the Ninja

7:00 AM
Morning had arrived in the Realm of the Ninja, the sun cast its warm glow across the landscape, dew covered all of the flowers and grass and foliage, and there was a fresh scent of pine and cinnamon that swooped through the air. The towering mountains stood proudly in the distance, and, at the center of it all, was the vast and absolutely gorgeous kingdom that shone brightly in the morning sun. Deep within the main kitchen, Evron was hard at work preparing breakfast for the whole kingdom while the ninjas' Aunt Beatrice was out shopping for supplies in one of the town markets up in the mountains. Things were going smoothly so far, but they would've been going a lot smoother if Evron didn't have to suffer through that grating noise Ubel called, "music". The latter had been keeping him company while Evron cooked, and was strumming away at his guitar whilst a song by Aerosmith blasted from a circular speaker on the table Ubel sat at.
The temple in Evron's forehead pulsated as he grew more and more annoyed, and his red eyes glowed intensely. While he was busy chopping up some carrots, Evron glanced down and noticed a fork laying on the counter, and then at Ubel's radio. The latter was busy fingering away at his guitar without a care in the world, jamming out to some Aerosmith, until without warning, that jam session was abruptly cut short. Evron hurled the fork he saw straight through Ubel's speaker, causing for smoke and steam to pour from it, and the music to be killed forever. Ubel stared at the device and then at Evron in shock, before narrowing his eyes.
"You owe me a new speaker." Ubel said.
"And you owe
me
a new pair of ears." Evron dryly retorted.
Ubel sighed and shook his head, "You're such a sour puss."
"How am
I
the sour puss when I don't want my ears to bleed?!"
Ubel got up from the table and headed towards the exit. "Did I mention drama queen as well?" He mused.
Evron rolled his eyes, "Whatever, look, just go get Peri and tell her breakfast is almost ready."
As Ubel turned to go do just that, he found that his task was already finished when Daeva groggily appeared in front of him, trying to rub the sleep from her eyes. Ubel peered over at Evron and grinned, "Speak of the devil." He said before he picked Daeva up, twirled her around a few times and sat her down in a chair. "Morning, baby sis!"
Daeva groaned and massaged her forehead. "Please, no more twirls today, Ubie; I'm still trying to recover from last night." She murmured before plopping her head on the table.
Evron smirked while stirring a bowl of eggs, "Couldn't handle your alcohol, eh?"
"Noooo, I just had too much to drink, that's all." Daeva woozily retorted.
"You had a half a glass of wine, sis.
Sparkling
wine, for that matter!" Ubel chimed in.
Daeva looked up at him, sighed, and then hung her head over the back of her chair. "Okaay, so maybe I'm not that much of a drinker, alright? Satisfied now?"
Evron snorted, "Lightweight."
"Prick." Daeva threw back.
"Well, in any case, getting some food in your belly always cheers you up. Look, Ruby Red even cooked an extra side of pancakes just for you!" Ubel calmly reassured her while patting her head.
Daeva smiled tiredly, "Uh huh... They actually smell pretty good, I can't even lie."
"There she is." Evron winked at her.
Daeva stuck her tongue out at him and leaned forward in her seat. "By the way, where'd Dante run off to today?"
Ubel grabbed a bagel off of one of the many plates and hopped on the kitchen counter. "He said, and I quote, 'that he had to go to a meeting, then another meeting, then another one, and another one, and another one... And theeen, something about having to go and handle a domestic dispute going on between this old married couple because the wife is threatening to send her husband to the Null Void, because he... Cheated?" Ubel threw his hands up. "I don't know, it's crazy."
"Basically, it's dumb boring meetings/load of bullshit day for Dante. We shouldn't expect to see him until
late
late tonight." Evron said, to which Ubel pointed at him in agreement.
Daeva massaged the thumping temple in her forehead. "Ugh, I wonder if Aphrodite is upset at all about that?"
"A little, but I think I'll manage okay." A familiar voice answered. The ninjas looked over to find the Greek goddess standing in the doorway, smiling warmly at them. "Besides, I've still got you guys to keep me company while Em's gone."
Evron smiled back at her, "Heyyy, mornin', Silver Mane, breakfast is almost done. It would've been done sooner if I didn't have two
children
distracting me." He said spitefully, causing for Ubel to throw the rest of his bagel at him.
"It smells amazing regardless, Evron." Aphrodite complimented. "Almost as good as Aunt Beatrice's cooking."
Evron raised an eyebrow and smirked, "Hmph, now you're just screwing with me."
Aphrodite chuckled and fist bumped with Ubel, before heading over to where Daeva was. Daeva patted a seat next to her for Aphrodite to sit in, and rested her head on the latter's shoulder when she finally sat down. Aphrodite snickered, "Too much to drink, Peri?"
Daeva held up a finger, "One, count it, I had one-"
"Half." Ubel corrected.
"
Half
a glass of wine last night, and now I'm absolutely wrecked." Daeva moaned.
"Her first real glass of alcohol, too." Ubel said.
"Let's not get things twisted, okay? It was literally just sparkling wine." Evron taunted.
Aphrodite grinned and leaned down to whisper in Daeva's ear, "
Lightweight
."
Daeva elbowed her in the shoulder and got up to sift through the cabinets for a glass. Evron took a few pieces of bacon and leaned against the counter. "So, Aphrodite, what've you got planned for-" Evron paused and looked down at his hand, only to find the pieces of bacon he had had disappeared. Knowing full and well who had swiped them, he turned and stared at Daeva, whom was scarfing down the last piece and sipping on a glass of water.
"What?! You were taking too long, and I was hungry!" Daeva tried to defend.
Evron could only roll his eyes and sigh as he shoved a handful of plates into her arms. "Set the tables, fatty." He grumbled and gave Peri a gentle yet forceful kick in her butt. "Ubie, go and wake everyone else up, will ya?"
Ubel gave a salute and headed off deeper into the kingdom.
"Alright!" Evron turned to Aphrodite and rubbed his hands excitedly together, "Time to eat! Em has no idea what he's missing today!"
Aphrodite smiled at him as he went over to help Daeva, before resting a hand underneath her chin. She imagined how incessantly boring and tiring it must've been for Dante right now, especially having literally just come back from fighting a samurai demigod a day earlier. Aphrodite would have been lying if she said she wasn't missing him a lot right now. "
Don't work yourself too hard today, hun, Ninja Prime or no.
" She thought to herself.
Minutes later, Aphrodite was shaken from her daydream as children started to funnel into the dining area, giving quick respectful bows to her, Evron and Daeva. Aphrodite greeted them all with a warm grin and proceeded to start helping the kids with whatever food and drink they wanted, as well as finding them good seats, as more and more Yakzua started coming in as well. Ubel soon arrived carrying two little girls on his shoulders, and one rambunctious little boy wrapped around his neck. As he let the three children off, one of the girls tugged on his pants. "Prince Ubel, will you come sit with us today, pleeease?" She innocently asked. Ubel smiled and knelt down to meet her, "Okay, but only on one condition: I get to sit in the pink chair." The girl giggled and grabbed a hold of Ubel's hand, leading him towards their table.
Daeva was, in the meantime, busy helping the elderly with whatever they wanted to eat, and finding them someplace comfortable to sit, while Evron stood to the side and let everyone help themselves before he got himself anything.
The day had now started, and it was time to eat.