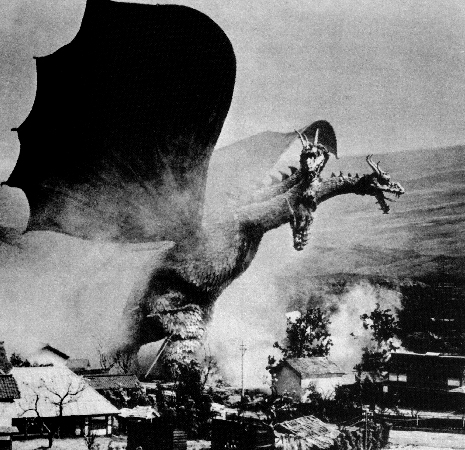 General monster discussion for the original King of Terror: King Ghidorah.
To start off with, in the previous forums I made a topic about King Ghidorah being a metaphor of Communism... What I'm writing may be a bit contradictory in comparison, it's just something that came to my mind and though it may be not the original intention of the ones behind the films, it could alow the character to be explored in a new way...
The thing is that King Ghidorah is usually seen as the main villain of the Showa series; it happens that in most of it's aparences it is being controled by diferent alien races for their own plans, it is in it's debut film (
Ghidorah: The Three Headed Monster
(1964)) where we can asume the monster is free and acting as it's own will, wich is destroying worlds across the universe(s)... I know that in Zone Fighter it is explained that it was created by some kind of alien race, but at that time the franchise ws being manipulated in a lot of ways for the sake of producing...
So, considering the first idea that is given to us about the character of King Ghidorah, What do you think about King Ghidorah having a role like Galactus from the Marvel universe? A being that destroy planets to allow others to be created in some kind of cycle?