So I open this thread about the Merry Monster Maker developed for the short-lived Marvel Comics'
GODZILLA:King of the Monsters !
comic series,
DOCTOR DEMONICUS

.
http://www.marvunapp.com/Appendix3/drdemonicus.htm
Although, not content to go quitety into the night with the end of the Marvel Godzilla series, he went on to cause trouble for the
SHOGUN WARRIORS
in their own short-lived mag as well. And then, made a brief return in
IRON MAN
with the King of the Monsters ,now mutated, and serving him to boot.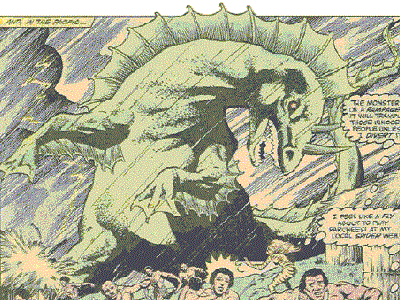 Although his plans hit a snag with getting nabbed by Tony Stark, he later returned with a gang of supercriminals of his own creation, the Pacific Overlords, and ended up raising a chunk of the Pacific floor to create his own country, Demonica/Pacifica. Unfortunatly, Dr. Demonicus ended up under the thrall of a demonic entity called
Rakasha
. Which ended up causeing his newly formed country of Demonica to sink beneath the waves never to return. Demonicus later was seen a part of the Hood's criminal operation, until that fell apart as well. A guy who made his first few appearances giving Godzilla, Raydeen, Combatra, Dangard Ace, and S.H.I.E.L.D. trouble with daikaiju sized monsters of his own creation shouldn't have that much trouble making a come back don't you think ?What are your thoughts on the wicked doctor ?