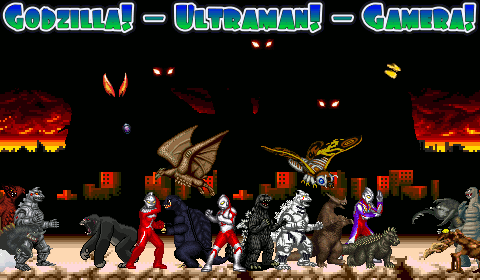 Godzilla - Ultraman - Gamera: All Monsters Attack!
Godzilla - Ultraman - Gamera: All Monsters Attack is the title of the Kaiju Beat em up Game my brother Cory and I are working on using a game program called OpenBOR. The Game will play like most beat em ups, as a side scrolling fighting game in which you and a few friends fight against a horde of enemies. The game will feature a large cast of Kaiju from the Godzilla movies, Gamera films, and several of the Ultraman series. The game will allow 4 players to play as one of the Kaiju or Ultras featured above, and take on a legion of evil Kaiju and Alien Invaders.
We don't know how long the game will take us to finish, but we have already done a lot of work on it and plan to have it finished sometime later this year. The game also be playable on the Wii, for those who have the homebrew channel.
Hope you guys will enjoy the game when it's finished, any comments, input or ideas would be appreciated.
For more information:
https://www.youtube.com/channel/UC6vZKr ... XgWG0hADNA
http://kaijubeatemup.blogspot.com/
http://gamejolt.com/games/godzilla-ultr ... era/118769
http://gojira92.deviantart.com/gallery/ ... 6#/d2ugebw
http://godzillafanon.wikia.com/wiki/God ... ers_Attack
!
Character Cards:
http://gojira92.deviantart.com/art/GUG- ... 3754&qo=11
http://gojira92.deviantart.com/art/GUG- ... 3754&qo=10
http://gojira92.deviantart.com/art/GUG- ... 03754&qo=9
http://gojira92.deviantart.com/art/GUG- ... 03754&qo=8
http://gojira92.deviantart.com/art/GUG- ... 03754&qo=6
Gameplay videos
Playthrough by GojiFan93:
https://www.youtube.com/watch?v=3DPsfjY ... wQ83B0fIAf
Playthrough by The Goldn Guy:
https://www.youtube.com/watch?v=xOvt92knLuQ
https://www.youtube.com/watch?v=pffQ6e2GuAk
https://www.youtube.com/watch?v=Rj5y9kKkEjs
https://www.youtube.com/watch?v=5meZU1FbOSA
https://www.youtube.com/watch?v=KZIGdqamG8g
https://www.youtube.com/watch?v=mX-qSi4qaUc
https://www.youtube.com/watch?v=x2vBfSJrIkU
Playthrough by AmitDabydeen:
https://www.youtube.com/watch?v=QmDNssw4OTE
Trailers and update videos
https://www.youtube.com/watch?v=Wd7lN2F1__A
https://www.youtube.com/watch?v=rRlJhnaRneA
The Newest version of the game
http://www.mediafire.com/download/80ut4 ... E+WOAH.zip