Now I know that neither Sota or ToG are anywhere near finished yet, but once I finish those, a new, and final, story will be in place, one that connects both of those together into an epic 3-part story, one that comes after the events of both tales. It will be one filled with action, one filled with adventure... and laughs! Unfortunately, it will not be a user Fanfict, but make no mistake, it will still be quite fun...
Here are the banners for the three sections, and tidbits from each one:
"Ah, life is good, isn't it Gira?" The Koopa King laughed, a bottle of wine in his hand.
"It most certainly is. Here is this greant and wonderful party youve decided to host, and there's been nothing ill going on in the last few months. I do think that a prosperous future is ahead of us..."
As Bowser took a swig in acknowedgement, the doors burst apart. All eyes shifted to the front as a most bizzare human walked in. She was a towering and busty figure, with long raven hair, two massive wings on her back, a green mini-skirt and white shirt, two electrons orbiting around her left leg, her right leg encased in concrete, and a control rod on her right arm. On her chest was a single eye, one that seemed to burn with hellfire. Her wings supported a glorious cape that had a starry background that seemed to move independantly. She eyed everyone who was assembled with a glare that could send Saxton Hale running for cover...
"Now now everyone, we must all stay relatively calm." Meta-Ridley snapped as we starred at the wall of water all around us.
"Oh sure we should stay calm. It's not like our lives are on the line here." Bowser said, his words dripping with sarcasm.
From the wall of water emerged 8 serpentine heads, heads we all recognized oh so veyr easilly. "Orochi! Aren't you supposed to be dead?" Gira growled, none too trilled to see his old nemesis back.
The serpent crackled.
"Spawn of Crigan, I am an immortal being who has lived for ten thousand years. My blood shall not be stilled, not by some pathetic conglomerate or a whelp!"
"We'll see whose the welp here, Orochi!" Gira hissed as he changed into his Origin Forme, ready for battle...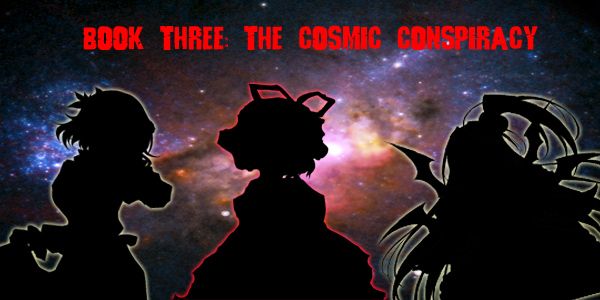 Everyone gathered around to the smoldering form of Giratina, only to gasp at the injuries he had. BLood dripped from all over, and gapping wounds covered his sides. a chunk of his mask was ripped off, and his underbelly was burnt to a crisp.
"W-what happened to you?" Utsuho asked, the Hell Raven horrified at the injuries.
Gira wheezed. "I defeated her... it went easier than I expected. Asmodeus may have been a conquerer of universes, but she had a key weakness: Fear. And I used that to turn her into what she truly was. I tried to kill her off, but she split up into two bits. I managed to seal off one bit, but the other escaped on me. I was heading back here when I was ambushed...URRGH!"
"Brother, stay still please. Who did this to you? Was it Asmodeus, or who was it?" Tiffany asked as she began to heal me up with a healing spell.
"Fufufufufu... It shouldbe pretty obvious who did this to him." A familiar voice echoed from above. Everyone turned to see who this attacker was...
_________________________________
So yeah, those are the teaser bits for each section. THis should begin somewhere around November or so, if I don't get really lazy...
Bonus points for whoever can guess who all the outlined people are.. The winner gets their own character inserted into either this, ToG, or SotA as a starring role...