This week's Spotlight points a spotlight on
Godzilla 2014
or
Legendary Godzilla
,
LPG
or just
Godzilla
whatever you want to call him and the figure I've chosen to start it off is
S.H. MonsterArts Godzilla 2014 SpitFire!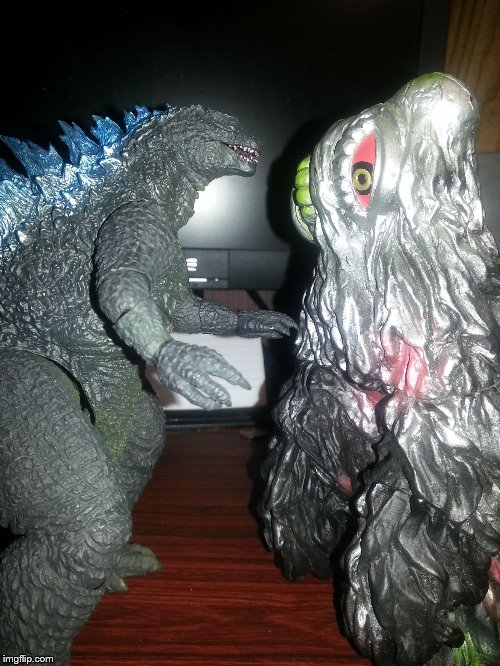 (Haha! still snuck in Hedorah)
The SHMA 2014 as many probably know has had a..troubled history back in 2014 as every Godzilla fan knows Legendary's Godzilla series kicked off with "
Godzilla (2014)
" bringing Godzilla back out of Retirement and back into the cinematic world. and Tamashii chose this particular Godzilla to be their 60th Anniversary figure, a move which made some fans a little disapponted as some felt that the 1954 Godzilla being the very first Godzilla is you know more fitting for a 60th Anniversary figure, but in my opinion I found it made some sense. what with it being the most recent Godzilla and the fact it's movie came out in 2014 which marked 60 years since Godzilla first emerged on the Cinematic world.
All seemed fine and dandy with the promo images Bandai released showcasing a great amount of detail and articulation, though it's accuracy and articulation seems were a matter of discussion at those times but than it began.
In the weeks prior to the figure's release in Japan images of the figure started showing up at conventions or on display at stores and what was seen looked pretty off. the Gaps appeared very noticable and quite the eyesore, but they paled in comparison to what was seen of it's paint job as it looked awful with the eyes looking in different directions as if he was a cartoon character and the teeth having copious amounts of red and white paint just splashed all around like a monkey painted it. during this time some fans came up with reasonable explantions for these errors that they were mearly defect figures that the store owners or covention management had put out to be displayed, and these were quite logical explations however the more appearances the figure made the harder it became to explain away it's defects. however the fanbase would soon learn about it's true quality when the figure released in Japan.
During it's release week in Japan fans were dying to learn new info about this figure's quality, with many looking at any place they could find to find pictures from Japanese owners of the figure to learn about it's quality what they found was not the thing one would expect of a $60 figure. but was exactly like what was seen previously at the cons and stores, the figure's paintjob was horrible with the teeth paint bleeding everywhere and the eyes each looking in different directions, not to mention the defects in the plastic of the figure as the tail often could not hold a pose and often drooped down after only a short while. this ignited a huge firestorm in the SHMA collector groups with many wondering how could Tamashii honestly release this awful quality figure and to not even mention that
this
was the 60th Anniversary figure which only made further fans mad and the rest we all know the story of.
Months later Tamashii goes to another convention and in their display two new repaints of 2014 were found. a Poster colored repaint and a Atomic Breath Varient called "SpitFire", this once again angered fans at how now after having already bought a $60 figure with terrible quality Tamashii was going to rerelease that mold with presumably much improved quality and it came with a Beam Effect too
and
a Muto Head. a few months later we learned that Tamashii had decided that the Poster Varient would be a Blu Ray box set exclusive and the SpitFire varient would be a Web Exclusive going for $74, the move both angered and pleased fans with fans that hadn't bought it or had already bought it being happy with the fact they now can have a much improved figure with Effect parts and cool translecutent mold and paint app. but other fans that had already bought the figure were angered by the fact that now Tamashii was releasing a improved version when that higher quality version should have been released in the first place and they would now have to spend a even greater amount of money to get it, and thus this brings us to the present.
The Review:
Paint
The SHMA 2014 has a much more muted color pallete than the original, with the whole figure's color scheme outside of the obvious blue paint nothing more than a light black. and even his tan belly is muted with the tan color barely noticable, especially on his feet the original SHMA despite it's well known defects had a pretty great amount of color and vibrancy with all the claws, toes and underbelly being properly colored as per film accuracy. here on SF it's looks like they've hardly been painted at all, especially on the claws where they don't have a single bit of color but black now one can argue that this more muted paintjob is to fit the night-time sequences in which he used his breath which makes sense. as with him being all vibrant and such wouldn't make sense as the blue spike paint is also supposed to represent light which would indicate darkness, (of course the box also says the copious amounts of blue paint used is supposed to stylistally represent the power of his beam) but one has to wonder if the more muted color scheme was also in part a attempt by Tamashii to reduce paint defects.
As for the blue paint though it's quite cool when you hold it up to light and you can see through it, however a problem that results from this is we lose that awesome detail that was on the Original's spikes so that's quite saddening and it is also saddening that the paint doesn't go all the way to the end of the tail like it does in the movie but either way it's cool. but of course one cannot talk about SHMA 2014 without mentioning the face paint and how did Tamashii handle it? it's far better than the original's and while the eyes still look a little off they're much improved over the original's and so are the teeth while the paint bleed may still be bad it's..better than the original. now do know that obviously paint quality varies on different figures but for mine I give it.
Paint Quality: C+
The SHMA 2014 does boost some very impressive articulation with each part of his body being articulated from his tail which boasts well over a dozen points of articulation to his torso which is comprised of two big articulated points and thus it gives him a wide variety of movement. and unlike the tail on the original this one holds poses much better than on the original, with it holding straight up into the air without drooping like the original did, however the articulation seems on it are often quite terrible and there's really not a pose you can put it in without it showing so it had some bad design work in that field. one thing to note on mine that it's hands are
extremely
loose with any little force knocking them off quite easily, now this is just a defect on mine but it's something to be cautious about if you are thinking about buying this figure in the future.
Artculation Quality: C+
Accuracy: C-
Verdic: It's a good figure but a underwhelming one, it could have been better but not much you can do with the mold in truth. overall it's a fine figure and one that defintely belongs in one's collection at some point.
Anyway, that brings the opening post for the
Monster Toy Spotlight Thread #20: Godzilla 2014
to a close. now post you're 2014s.