Interpol Agent
Posts: 514
Joined: Fri Jan 20, 2017 1:20 pm
Location: Xiliens Lair
Unleashed for the ps2 Obsidious and Battra are clones of Orga and Mothra.
8-BIT MADNESS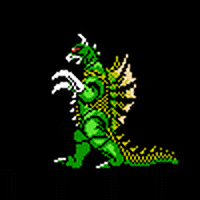 2 Friends having a good time.
---
Interpol Agent
Posts: 534
Joined: Sun Jan 12, 2014 8:53 pm
Location: Mexico
The lack of movie accuracy regarding certain monsters, namely Godzilla 90's, G54 is somewhat more decent but is basically a clone of G90's, Showa Mechagodzilla, not only does he look messed-up, his roar is completely inaccurate (at least he has a cool intro), and multiple kaiju being given breath weapons despite the fact they lacked one in their debut films. There's also G:Unleashed's messy storyline.
---
Yojimbo
Posts: 78
Joined: Wed Feb 15, 2017 10:21 pm
Theres no hd remasters for modren systems. Serouisly I want to play destory all monsters melee in hd on my pc. Id be willing to pay for that.
Last edited by
xolta
on Mon Apr 01, 2019 11:35 pm, edited 1 time in total.
---
---
Who is online
Users browsing this forum: No registered users and 1 guest